Each Boyd Metals location supplies a variety of red metal products to fit your application needs.
Electric and Thermal Conductivity
The most common types of red metals are copper, brass and bearing bronze. C110 copper has the highest degree of electrical conductivity of any metal except silver and has excellent corrosion resistance. Common brass products include C353 Leaded Brass, C360 Free Cutting Brass, C464 Naval Brass and C485 Leaded Naval Brass.
Common Bearing Bronze grades include C674 Managanese Bronze, C932 Bearing Bronze and C954 Aluminum Bronze.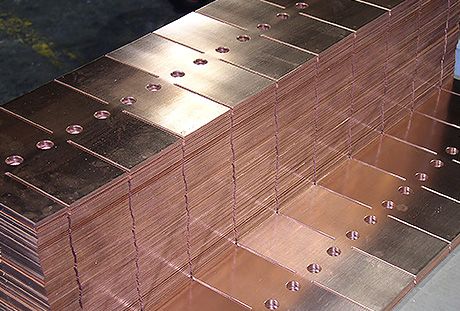 Flats, rounds, squares, half rounds and hexes in ASTM B 16 Alloy 360 Free Cutting brass
Rounds, squares, in ASTM B 187 Alloy 110 hard temper copper
Flats in ASTM B187 Alloy 110 hard temper
Flats, rounds and squares in ASTM B 140 Alloy 316 Half Hard temper.
ASTM B 135 Alloy 330 Drawn General Purpose
ASTM B 43 Alloy 230 in Schedule 40 & Schedule 80
ASTM B 42 Alloy 122 in Schedule 40 & Schedule 80
Bronze Bushing In Solid Rounds And Tube
ASTM B 505 Alloy 932 SAE 660
Continuous Cast Aluminum Bronze
Flats, rounds and squares in Alloy 954 ASTM B 505
Aluminum Bronze Round Tubing